Suction lines with filters placed inside or outside the working areas
The industrial suction lines treat shavings, dust, fumes and oil mist produced during machine processes. Centrifugal fans, appropriately placed, take in and covey the dust, improving the health inside the working places and providing the air exchange in compliance with current environmental Directives.
Our suction lines are designed according to every customer requirements.
All pipes, bends, branches, inserts and joints and valves (made to mesure) are modular and made of the best welded sheet stell frame available in different thicknesses.
Every line can connect more suction points where articulated arms or hoods can be placed upon request.
The air extracted by the line is treated by the filter system and the air is expelled out clean into the atmosphere.
Applications
Wood, stone (marble, granite and similar), scrapping, recycling, concrete, chemical, pharmaceutical, mechanical, welding, paints, stamping, plastic materials, electronical, inert substance processing, glass, ceramic, milling industry, textile and shoe, food industry, foundry and every circumstance where smoke, dust, gas or shaving particle removal is needed.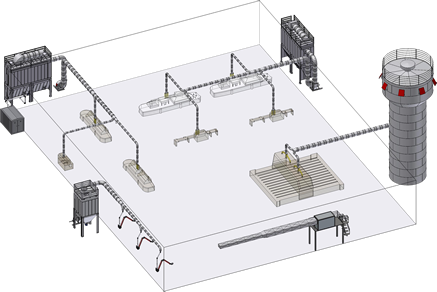 Other products and services
Extraction and filtration
Stoneworking dust extractors
WATER line
DRY line
Other products