DRY line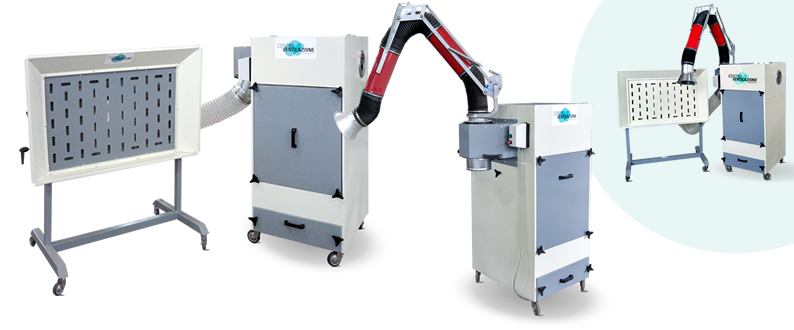 Pocket filter extractor with adjustable hood / flexible suction arm
Application
Stoneworking - Extraction and exhaustion of stone dust (marble, granite, etc.)
Ideal for small workshops or when working small stone pieces.
Structure
It is made of welded sheet steel frame and treated epoxy wash primer and polyurethane paint.
The dust extraction elements consist of an adjustable hood (connected to the machine with a provided hose), a flexible suction arm, or the complete version with both the accessories (in this case two valves to open/close the aspiration will be installed).
There are no parts in movement.
It is provided with steering casters that allow an easy displacement of the frame (and the hood, if installed) inside the working area, right to the location where it is required for the job.
Installation
The product is delivered assembled. Installation of the accessories (hood or arm) and electrical connections are needed.
How it works
The suction group extracts the dust particles produced during the stone working. The pocket filter inside the gear captures the dust that collapeses into the drawer below.
A polyester fiber filter is installed into the frame on the roof, permitting the air to be expelled clean into the atmosphere.
Maintenance
Easy cleaning of the pocket filter by means of the lever installed. Periodically drawer cleaning.






Pros
User-friendly
Small size
No water needed
No mud produced
No mechanical moving parts or pumps
Steering casters provided for an easy displacement
Minimum maintenance
Low power consumption
Accessories for the extraction
Adjustable wheeled hood provided with steering casters
Flexible suction arm
N.B. To obtain the best suction power, it is advisable to use one accessory at a time (for the complete version).

Technical data
Model: POCKET
Machine body size: 800x1030x1630 mm
Body weight: 172 kg abt
Flexible arm: Ø160 L=2000 mm
Arm weight: 14 kg abt.
Hood weight: 47 kg abt.
Type of filter: semi-rigid synthetic filter with 8 pockets
Extracted air: 2500 m³/h
Voltage: 400 V - 50 Hz three or single phase, 2 pole
Absorbed power: 3 kW
Elimination efficiency: 99,9% *
* Certified by authorized laboratory
Products & services
Suction systems and components
Stoneworking filter solutions
WATER line
DRY line