WATER line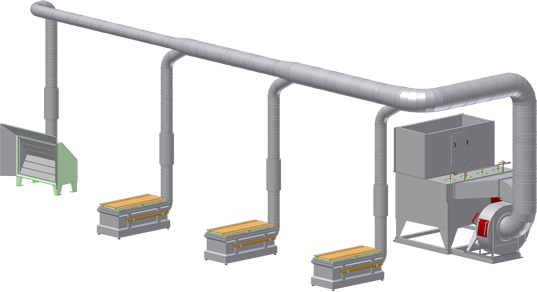 Centralized extractor plants with water dust filtration
Application
Stoneworking - Extraction and exhaustion of stone dust (marble, granite, etc.).
Ideal for different suction points inside the working area.
Structure
All the components (hoods, pipes, filter gears, central unit) are made of welded sheet steel frame and treated with epoxy wash primer and polyurethane paint where needed.
Design
Solution Line is the best choice when multiple extraction points are required inside the working area. An inspection by our technicians permits us to take into consideration every customer need such as work organization, logistic and technical configuration of the space, designing the best solution in accordance to the quantity of extracted air needed, the sound pressure and power required, the type and position of suction points to be located (walls, bench, hoods or arms) etc.
Installation
The line is installed by our qualified technicians.
Centroventilazione Srl offers logistic/technical consultancy and support all over Europe.
How it works
Every Solution Line centralized system is composed of a central unit with frame, a suction group (cetrifugal fan, hydrofilter) and a control panel placed outside the working area.
It is connected by means of pipes, connecting hoses, curves, deviations, collars etc. to a serie of benches, walls, hoods or flexible arms corresponding to the suctioning points inside the factory.
The centrifugal fan placed inside the central unit creates an air stream that conveys the dust through the pipe line from the suctioning points to the water filter.
Inside the hydrofilter, the dust merges with water thanks to a nebulization system. Internal bulkheads and metallic separators appropriately placed allow the mud to collapse into the tank below. The mud is expulsed by means of a continue water output flow.
The air is expelled clean throught the chimney of the central unit.
Advantages
Guarantee of a health working area
Environment friendly
Perfect for a working line
Customizable for logistic requirements
Free quote
To get a quote, we need the following data:
- layout of the factory and the working area (dimensions, height);
- place and number of suctioning points needed (with distances among the points and the filter unit outside);
- location of the central unit;
- notification of any possible impediments for the pipe system.
Gallery
Products & services
Suction systems and components
Stoneworking filter solutions
WATER line
DRY line