WATER line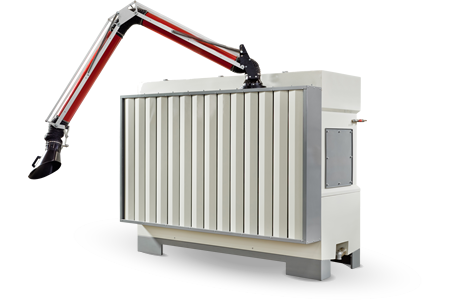 Suction wall for stone dust with water depuration
Application
Stoneworking - Extraction and exhaustion of stone dust (marble, granite, etc.)
Structure
It is made of welded sheet steel frame and treated with epoxy wash primer and polyurethane paint.
No parts in movement are present.
Installation
The product is delivered assembled. Only the water supply and electrical connections are needed. No masonry work needed.
How it works
The power of the suction group provided with centrifugal fan, extracts the dust produced during the stone working. The air is purified through four phases of filtration thanks to the hydrofilter system installed inside the structure.
The suction is localized all over hood perimeter.
The atomized drops meet the dust during the suction. Metallic bulkheads, thanks to a veil created by the spraying nozzles, acts as a second water filter for the dust. Metallic separators with lamellar structure permit the dust to merge with water and collapse into the internal tank. Polyester fiber filters, placed in the roof output frames, stop the last dust particles, before the air is expelled clean into the atmosphere.
The water merged with dust is ejected thanks to the constant outbound water flow.
The hood is provided with inner cover by means of sound-absorbing panels for the the noise control.
Maintenance
The maintenance is reduced to minimum: tank cleaning and water replacement when required.






Pros
Easy to use
No mechanical moving parts or pumps
Silent
Excellent suction
Minimum maitenance
Reduced water consumption
Low power consumption
Accessories
Flexible suction arm - Lenght= 3000 mm
Set of 3 pvc panels to convey the extraction of the dust flow
Technical data
Model: FLOW
Size: 2480x1200x2080 mm
Weight: 800 kg abt.
Filtering surface: 2480x1500 mm
Extracted air: 12500 m³/h
Water requirement: 3-5 liters/min,
pressure 2 bar
Tank capacity: 280 liters abt.
Power supply: 400 V - 50 Hz three phase,
power 5,5 kW
Sound pressure: 74 dB(A)
Elimination efficiency: 99,9% *
* Certified by authorized laboratory
Products & services
Suction systems and components
Stoneworking filter solutions
WATER line
DRY line